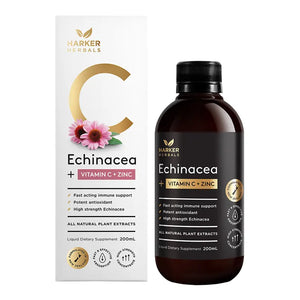 Harker Herbals
Harker Herbals Echinacea + Vitamin C + Zinc, 200ml
Regular price
$50.99
Sale price
$39.99
Tax included.
Shipping
calculated at checkout.
---
High-strength plant formulation. Suitable for all ages from 1 year. 
A super formula to support lungs and sinuses while recovering from winter bugs. This combination of high-strength echinacea, 550mg vitamin C, and RDI of zinc provides fast-acting immune support, especially for those slow to recover and prone to repeat illness. Echinacea and vitamin C are rich antioxidants that support skin health, especially dry, itchy skin. This combination also supports urinary tract health for those prone to urinary tract issues.
Suitable to support:  
recovery and general low immune system health
lungs and sinuses slow to recover
dry, itchy skin and overall skin health
urinary tract health
daily immune health maintenance
This high-strength formula is:
Suitable to take while pregnant or breastfeeding
Family-friendly - adjust the dose as directed to meet the needs of all ages over 1 year
Suitable for daily immune support or simply increase the dosage as directed on the label to support recovery
Vegan-friendly with no added gluten, dairy or yeast
Free from artificial preservatives, sweeteners or flavours
A delicious citrus flavour – take straight from a spoon or mix this syrup into a favourite drink
Active ingredients

Active ingredients in each 10ml dose:
ECHINACEA PURPUREA  4,160mg

extract equivalent to dry root

WILD HARVESTED SEA BUCKTHORN berries 123,000mg

Delivers 550mg Vitamin C per 10ml

ZINC bisglycinate amino acid chelate

Delivers 2.5mg elemental Zinc per 10ml
In a base of chicory root fibre, vegetable glycerine, natural flavours, thaumatin, citric acid, and water.
Directions
Recommended dosage:

Adults (over 12 years): 10ml per day.
Children 1-5 years: 1ml per day.
Children 6-12 years: 5mls per day.

Get well: If unwell, take the recommended dose every three hours daily.
Stay well: Take the recommended dose once daily to maintain healthy immunity.

Shake well before use. It can be taken long term. 
Caution

If taking prescribed medication, we recommend seeking professional medical advice before taking our products.
Always read the label and use only as directed.
Storage

Store in a cool, dry place and use within 12 months of opening (no refrigeration necessary).