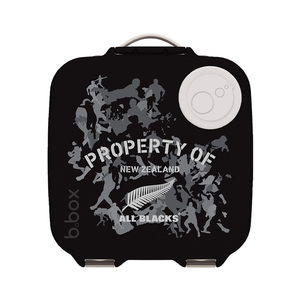 B.Box
B.Box Whole Foods Bento Lunchbox, ALL BLACKS
Regular price
$44.99
Sale price
$41.99
Tax included.
Shipping
calculated at checkout.
---
LIMITED EDITION OF TOP-SELLING LUNCHBOX. Officially Licenced Product.
B.box has designed a lunchbox that allows you to pack a variety of foods! Fitting a whole sandwich, their unique Flexi holder bends around the shape of the whole fruit!

Everyone loves different choices throughout the day, and this bento lunchbox offers you more flexibility. The lunchbox features a large compartment that fits a whole sandwich. Plus, sitting underneath the tray is an included gel cooler pack to keep food fresher and cooler for longer. Or, remove the sandwich tray and the compartment now easily fits pasta and salads. Its unique Flexi whole fruit holder lets you store a whole apple, as the stretchy seal bends around the shape of your fruit – no need to cut fruit into smaller sizes!
Leakproof silicone seals let you store wet foods like watermelon and yoghurts (no liquids). Seals are removable for easy cleaning and prevent mould build-up.
The custom divider slides across enabling parents to adjust the compartment size as they need, or remove it to fit a whole banana or wrap.
The easy-to-open latch and handle encourage independence. 
Recommended for adults and children from 5+ years old or for kids with a big appetite. For younger kids, we recommend our smaller Convertible Bento 6 (which comes in multiple colours/designs) or mini B.Box whole foods.   
Highlights:
Dimentions:

 

L 23.5cm x W 21.5

cm x D 6.5cm 

Volume: 2000ml

Weight: 470g

Durable food-grade materials
Made from PP and silicone
BPA-Free, PVC-Free & Phthalates-Free

Kid-friendly easy to open latches
Encourages portion control and variety
Leakproof with the removable seals (bottom two compartments) 
A unique whole fruit compartment with a stretchy seal means no need to cut fruit into small sizes
Easy to open design, with handles and large grip clip – encourages independence
Hand wash and freezer safe
Different colour options are available
B.Box silicone snack cups are available here.
A replacement divider is available here.
A matching spout drink bottle, 600ml is available here. For the B.Box insulated lunch bag please click here. 
Important Information:

Please be sure to empty contents each day, hand wash with warm soapy water and thoroughly dry before storing. If you pack oily foods regularly, once a week apply a baking soda paste and leave it overnight to avoid build-up.
Not suitable for pure liquids, such as water, juice or watery dressings. Pack sauces with the consistency of mayonnaise, tomato sauce, chunky salsas, dips and thick yoghurt.
Please note that the bottom two compartments are designed for yoghurt or dressing. It's advised to pack these types of foods into these compartments to prevent leakage. 
Do not microwave. HAND WASH only.
Our dedicated customer service is always here to answer your questions and product issues.